Enter the ice cream flavor contest today
April 29, 2020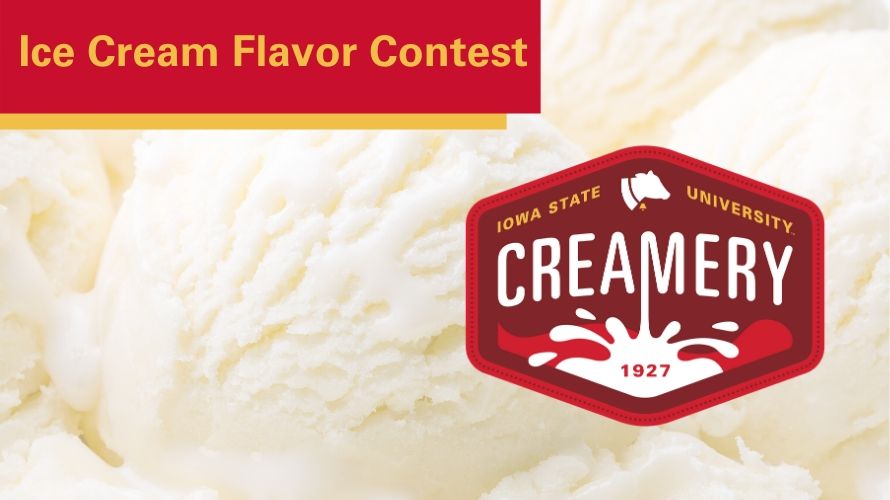 We want your ideas! ISU Creamery, in cooperation with the Department of Food Science and Human Nutrition (FSHN) and Department of Apparel, Events, and Hospitality Management (AESHM) chairs, announce Ice Cream Flavors of Iowa State Colleges Contest.
Iowa State University students, faculty, staff, and alumni are invited to participate! We are not asking participants to make any ice cream. We simply invite you to describe an ice cream concept and why it represents your college. Entries are due midnight, June 15.
Winners will be announced in July in anticipation of the grand opening of the Student Innovation Center (SIC) in the fall.  Winners will receive a free quart of the ice cream representing their college and will be featured at an SIC event. 
Background
The Iowa State University Creamery is re-launching after a 51-year hiatus. Located in the Center for Crops Utilization Research (CCUR) pilot plant with a retail store located on the 2nd floor of the Food Sciences building, the ISU Creamery will offer a variety of ice cream flavors, available by the scoop, 8 ounce, and quart containers. The flavors that you can expect at the retail store's grand opening this fall are:
"Two Swans" – Vanilla
"1858" – Dark Chocolate
"Legacy" – Peanut Butter & Butterscotch Ice Cream with Chocolate-Covered Rice Crisps
"Campanile Kiss" – White Strawberry Ice Cream with Strawberry Swirls
"Cardinal Tracks" – Chocolate Ice Cream with Chocolate-Covered Raspberry Cups and Fudge Swirls
"Wintersgreen" – Mint Chocolate Flake
Announcements