ISU Creamery: Ice Cream Flavor Contest Winners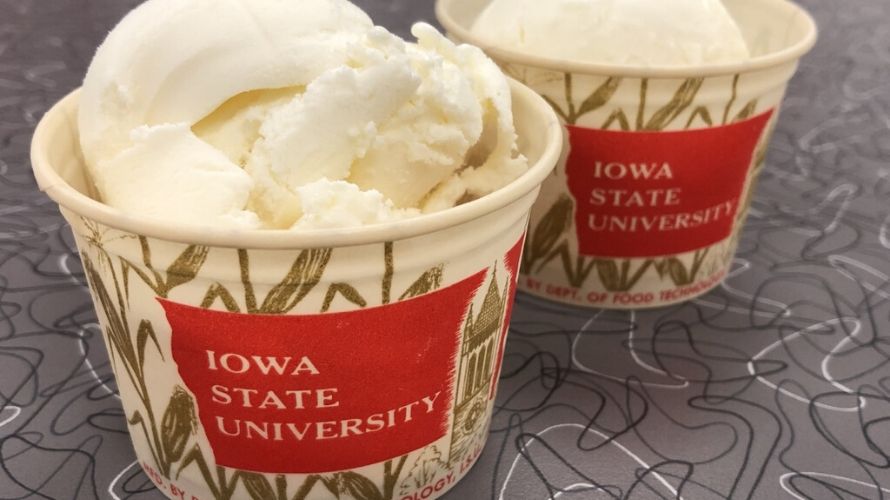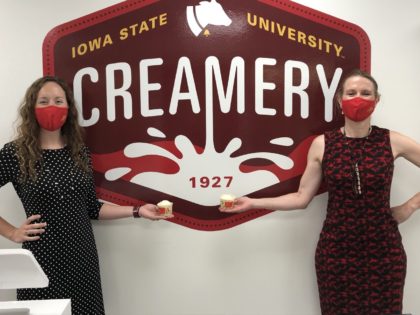 ISU Creamery assistant coordinator Sarah Canova and FSHN Virginia M. Gladney Endowed Professor Stephanie Clark, gear up for the grand opening. UPDATE: Due to building accessibility, the ISU Creamery will open after the fall semester begins on Friday, August 21!
July 15, 2020 (Ames, Iowa) – The ISU Creamery hosted a college flavors contest where students, faculty, staff, and alumni were asked to create a flavor that would be unique to Iowa State University's seven colleges and graduate college. The competition received 52 entries which were judged on name, fit to the ISU college it represents, flavor appeal, description, and feasibility of ingredients and production process. Winners were selected by each college's dean or assistant dean with along with some staff who provided their assistance.
Graduate College
Alma Mater Baklava
A pistachio-praline ice cream with bits of pistachios and granola, submitted by Kris E. Spence. Spence achieved his master's degree and PhD in food science and technology. This entry was inspired by ISU's "Bells of Iowa State" anthem. The nut and granola "baklava" is intended to represent the rich diversity in the Graduate College.
College of Design
Lunar Lavender
Lavender-flavored ice cream with honey swirls, created by Daniel Vandersteen and Aaron Born. These industrial design students developed the ice cream to satisfy the cravings that design students get when they spend late nights in the studio! The honey for this ice cream will be sourced from the ISU Bee Lab.
Ivy College of Business
Business Brew
Espresso and vanilla ice cream with chocolate-covered almonds and fudge swirls, submitted by Justin Brtek, Rohan Brahmarouthu, Andrew Simon, Daniel Burke, and Ani Yam. These business students created this flavor from several sources of inspiration; the Gerdin Business building, the Business Cafe within the Bergstrom Commons, the Ivy's "never settle" mindset, and the "Donuts with the Dean" event.
College of Liberal Arts and Sciences
Lemon Berry bLASt
Lemon frozen yogurt (full-fat fro yo) with raspberry swirls and bits of raspberries, created by Kristen (Turnquist) Fox and Shelby (Ullrich) Zomermaand. These 2017 graduates developed a sweet twist on the sour tradition of lemon drops. Tradition said that women had to become true "Iowa Staters" by kissing someone under the Campanile at midnight. If they hadn't "campaniled" by the time they reached their senior year, people put lemon drops on the woman's doorstep to signify that she was sour. The lemon drop tradition no longer exists, so this flavor was created to signify that all of the ISU community is considered a true "Iowa Stater."
College of Engineering
Marston Mash
Sea salt caramel ice cream with brownie bits and fudge swirls, created by Ezra Iliff, Luke Lawson, and Connor Kennedy. These engineering alumni created this flavor in part to honor former dean, Anson Marston, who helped build the Campanile and restore Lake Laverne. It also represents the collaboration needed between all engineering majors to make a project successful.
College of Veterinary Medicine
White Chocolate Squirrel
White chocolate ice cream with swirls of hazelnut spread and hazelnut pieces, submitted by Kipp Van Dyke and some of the staff in the Dean of Students office. This entry honors one of Iowa State's campus creatures, the elusive white squirrel.
College of Human Sciences
Human Sci Sweet Cherry Pie
This sweet corn custard features swirls of cherry pie filling and pieces of pie crust. It was created by CHS alumni Amy Matthies, Deb Nilles, and Samantha Nilles. Both generations of their family made cherry pies in the Joan Bice Underwood Tearoom during their time at ISU. This flavor represents the traditions of CHS while highlighting the adventurous spirit of the CHS students and alumni.
College of Agriculture and Life Sciences
Pasture Bedtime
Mocha custard with chocolate chips and caramel swirls, created by Evan McCoy, Timothy Lott, and Mikaela Galdonik. These 2018 Food Science graduates created this ice cream to show the energy and determination that everyone in CALS has. It was noted from the winners, that as students, coffee is especially needed in preparing for the CALS career fair! This flavor was also created to portray the richness and diversity of Iowa soil and the CALS community. Amazingly, this same team won the ISU signature ice cream contest back in 2017 that is now featured in the ISU Creamery. That flavor is called Legacy. It's scotcheroo ice cream honoring two ISU alumni, Mildred Day, who created Rice Krispies Treats, and George Washington Carver, who is famous for peanut research.


UPDATE: Due to building accessibility, the ISU Creamery will open after the fall semester begins on Friday, August 21, 11 AM-3 PM! The ISU Creamery is located on the second floor of the Food Sciences Building. Stop in and try some of their traditional flavors; Two Swans, Cardinal Tracks, Wintersgreen, 1858, Legacy, and Campanile Kiss. The all-new college flavors will be available in October.

Hours of Operation (Beginning August 21)
Monday – 11:00 a.m.-3:00 p.m.
Tuesday – 11:00 a.m.-3:00 p.m.
Wednesday – Closed
Thursday – 11:00 a.m.-3:00 p.m.
Friday – 11:00 a.m.-3:00 p.m.
Saturday – Closed
Sunday – Closed
Open to the Public
ISU Creamery Background

After a 50-year hiatus, the ISU Creamery is back! In 1927, Iowa State College established a campus creamery to equip students for the dairy industry. For decades, the Creamery was known nationally for its high-quality dairy products. But as the landscape of Iowa agriculture shifted to corn and soybeans, dairy manufacturing at ISU ended in 1969. In 2020, the ISU Creamery is once again open for business!


News