We'd Love to Meet You
Food Science and Human Nutrition Focused Visits
Exploring Food Science and Human Nutrition at Iowa State University?
Monday, April 10, 2023 –This Experience Iowa State Visit Day will have a focused track on the Food Science and Human Nutrition Department. During this visit, prospective students and their guests will explore majors, career opportunities, participate in discipline specific hands on sessions, have lunch with current students, and attend a panel and ice cream social with faculty. Additionally, students will have the opportunity to learn about Iowa State in general and participate in campus and residence hall tours! Register through Experience Iowa State – be sure to select Mon., 04/10/23.
Admitted to Iowa State University?
Friday, April 7, 2023 – Admitted Student Visit Day will have a special track for students interested in Dietetics, Diet & Exercise, Culinary Food Science, Food Science, and Nutritional Science (includes Pre-Health). Register for Admitted Student Day – be sure to select the FS HN sessions when registration opens – details coming soon.
General Campus Visits
For your first trip to campus Iowa State's Admissions office hosts multiple visits throughout the year for you to choose from. Most of these visits include an academic session with an advisor in your major of interest.
Experience Iowa State is an open house program where you get the chance to chat with current Iowa State students, check out various career interest sessions, meet in a small group with an advisor in your major of interest, and take a guided campus tour.
Daily Campus Visit allows you to learn more about enrollment and take a look around campus and our residence halls. On most weekdays, you'll be able to visit with an academic advisor in the area of your choice.
Transfer Student Visit Days focus on small group sessions with fellow transfer students to discuss how best to transition to Iowa State.
Virtual Tour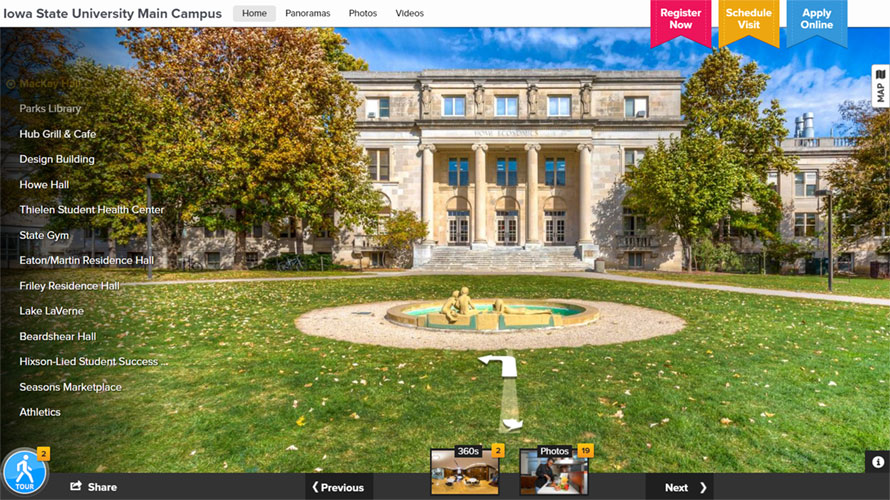 Want to get a sneak peek before your visit? Check out our virtual tour!
Need More Information?
College of Human Sciences Visitor Center
118 MacKay Hall
2302 Osborn Drive
Ames, Iowa 50011-1078